In working up these uke versions I tried to stay stylistically faithful to the 1920's, keeping as many of the Augmented, Diminished, and Suspended chords as possible. BTW, learning all these Aug and Dim chords (as well as the Bar chords which are pretty essential) is fun and has made me a better player. If you need to simplify the chording, that's easy. Make all D7 chords, D chords. Make any Aug or Dim chord, just the simple root chord. You get the idea.
All of the verses are included as well. It seems that the choruses are what history has bequeathed to our collective (hundred-year-old) memory. The verses have dropped by the wayside over the years. This makes sense to my ears as the choruses are generally more memorable, catchier, than are the verses.
More will be added periodically. As this is just a hobby, don't expect consistency - in either format or an uploading schedule.
Some are scored out with melody and rhythms and uke chord diagrams. Others are just the lyrics with chords names above.

---
---
The Videos
These vids were recorded quickly (and very imperfectly) for your reference,
so you can get an idea of how the songs are played with the arrangements posted here.
All of these videos below are "first takes" unless I totally crashed, in which case it'd be a second take.
I probably should have waited to record these until I was able to play the songs better, but what the heck?
Since I'm recording these vids soon after working up the uke part, I've not memorized them and am OBVIOUSLY reading the scores.
These performances are, after all, just so you hear how the songs go. As I said earlier, they were recorded quickly and imperfectly.

Please feel free to download the scores of any songs you'd like to play.
The PDFs are here for the "click and taking".

HAVE FUN with these songs. That is the whole idea after all.
---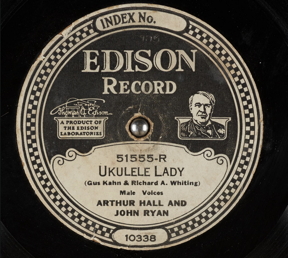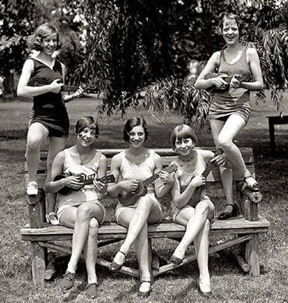 Aint She Sweet - 1927.pdf
Music: Milton Agar / Jack Yellen
.
Aint We Got Fun - 1921.pdf
Music: Richard A. Whiting / Lyrics: Gus Khan & Raymond B. Egan

I flubbed the ending. Oops.
.
Barnacle Bill the Sailor - 19th Century.pdf
Anonymous
I first heard this song performed in the 1935 Popeye cartoon (click here to see it)
There are TONS of great songs in the Fleischer cartoons of the 1930's.
.
Beautiful Dreamer - 1865.pdf
By Stephen Foster
.
Button Up Your Overcoat - 1928.pdf
By B.G. DeSylva, Les Brown, Ray Henderson
.
By the Light of the Silvery Moon - 1909.pdf
Music: Gus Edwards / Lyrics: Ed Madden
.
California Here I Come - 1924.pdf
By Al Jolson, B.G. DeSylva, Joseph Meyer
.
Carolina In The Morning - 1922.pdf
Music: Walter Donaldson / Lyrics: Gus Khan

Not my best performance (a few goofs here and there),
but you'll get the idea of how the song goes so you can learn to play it
* Daffy Duck does a wonderful version of this song
in the 1946 Warner Bros. cartoon Book Revue. - (The song begins at the 4:00 mark.)
.
Crying For The Carolines - 1930.pdf
Music: Harry M. Warren / Lyrics: Lewis & Young

While looking online for the sheet music to "Carolina in the Morning" I stumbled on this song.
There's something about this one that really melts my butter.
Check out the 1930 version by Milton Charles (The Singing Organist) -
with animation by Leon Schleschinger (of Bugs Bunny fame)
click here to see the 1930 video
To today's ears this 90 year old rendition is hard to bear. Myyy, how popular tastes have changed.
Give it a listen. See what you think.
.
Happy Days Are Here Again.pdf - 1929
Music: Milton Ager / Lyrics: Jack Yellen
Al Jolson's version was a huge hit, and still pretty cool 90 years later.
.
VERSION 1 - I Get A Kick Out Of You - 1934 - COMPLETE.pdf
By Cole Porter
This is the complete song, with verses, and the original chords.
.
VERSION 2 - I Get A Kick Out Of You - 1934 - SIMPLER.pdf
This is the Chorus only & has simpler chords.
This one is pretty easy and a fun song to sing.
.
I'm Sitting On Top of the World - 1925.pdf
Music by Ray Henderson / Lyrics by Lewis & Young
This is another one with which I took SERIOUS liberties.
This is probably not the final version. I'll most likely change the bottom section on page two.
.
In The Valley Of The Moon - 1933.pdf
Music by Joe Burke / Lyrics by Charlie Tobias

I really like this song. It's pure, simple, and very emotional. Nice chords too.
.
Jingle Jangle Jingle (I Got Spurs) - 1942.pdf
By Joseph J. Lilley & Frank Loesser
.
Livin In The Sunlight, Lovin in the Moonlight- 1930.pdf
By Al Sherman & Al Lewis

The first album I ever owned was "God Bless Tiny Tim"
which my folks gave me for my 10th birthday.
In about 2015 I learned that this song (as sung by Tiny Tim) was in the
very first episode of Spongebob Squarepants - CLICK HERE to see SBSP.
.
Looking For the Lovelight In the Dark - 1930.pdf
Music by Joe Burke / Lyrics by Al Dubin
I've found a number by this songwriting team I really like.
.
The Man on the Flying Trapeze - 1867.pdf
Music: Gaston Lyle / Lyrics: George Leybourne
The first time I heard this song was in the 1933 Popeye cartoon of the same name - CLICK HERE .
.
Meet Me To-night In Dreamland - 1909.pdf
Music: Leo Friedman / Lyrics: Beth Slater Whitson

A lovely song that was featured in a heartwarming and heart-wrenching 1936 cartoon by Max and Dave Flesicher.
This song deserves a much better singer than am I. When sung well, it is quite lovely.
CLICK HERE for the Fleischer cartoon "Somewehere In Dreamland"
.
Minnie the Moocher - 1931.pdf
Music & Lyrics by Cab Calloway
This song is featured in the 1932 Max Fleischer-produced Betty Boop cartoon (CLICK HERE)
In the live-action intro to this Cab Calloway and his band perform "St. James Infirmary".
Later on he sings and dances (rotoscoped) the title song.
.
Painting The Clouds With Sunshine - 1929.pdf
Music: Joe Burke / Lyrics: Al Dubin

This was written by Joe Burke & Al Dubin, the composers of TipToe Through the Tulips.
There are like 20 different chords here, many of which are unfamiliar with tricky changes.
I wish that I were a better singer. This has a really nice melody and my limited vocal abilities don't do it justice.
This one is not for beginners, but it is a REALLY NICE SONG.
Painting The Clouds With Sunshine #2 - 1929.pdf
Different Arrangement
This is a more intersting arrangement with more chords and different chording on the repeats.
This is the one that I'm going to be playing.
.
Sentimental Journey (lyrics & chords only) - 1944.pdf
By Bud Green, Les Brown, Ben Homer
Sentimental Journey (scored with BASS) - 1944.pdf
.
Shine On Harvest Moon - 1908.pdf
Music: Nora Bayes / Lyrics: Jack Norworth

.
Shuffle Off to Buffalo - 1930.pdf
Music: Harry Warren / Lyrics: Al Dubin
I first heard this song performed in a 1933 Warner Brothers Cartoon
.
Take Me Out To The Ballgame - 1908.pdf
Music: Albert Von Tilzer / Lyrics: Jack Norworth

.
Tip Toe Through The Tulips With Me - Version 1 (1929) .pdf
Music by Joe Burke / Lyrics by Al Dubin
This is from the original sheet music.
The cover of the sheet music spells out "Through". Inside, the title above the music spells it "Thru'"
This HAS THE ORIGINAL TWO VERSES that are not included in the two versions below.
.
Tip-Toe Thru' The Tulips With Me - Version 2 (1968).pdf
Music by Joe Burke / Lyrics by Al Dubin

Music by Joe Burke, Lyrics by Al Dubin
This performance is more like the way Tiny Tim's did it than as originally composed.
The 2 verses are not included.
.
Tip-Toe Thru' The Tulips With Me - Version 3 More Fun Tiny Tim Version.pdf
Music by Joe Burke, Lyrics by Al Dubin
Playing Tiny Tim's version is kinda boring.
This is somewhere in between the original and Tim's. More chord changes. The 2 verses are not included.
.
The Treasure of Your Love - 1958.pdf
Music & Lyrics by Barry DeVorzon

Filmmaker John Waters (Hairspray, Pink Flamingos) said that if he ever did a drag show
this would be the song that he'd perform.
Reading this (in his book Mr. Know-It-All), I had to hear it. It's a goodie. Ridiculously melodramatic. Enjoy.
.
We Just Couldn't Say Goodbye - 1932.pdf
Music & Lyrics by Harry M. Woods,
author of When the Red, Red Robin (Comes Bob, Bob, Bobbin' Along).

I really like this song and took some serious liberties with the arrangement,
including adding some new lyrics at the end.
Having just finished up the arrangement and not knowing it by heart,
I am OBVIOUSLY reading the score
which explains my slack-jawed, cro-magnon look.
Go ahead and download the PDF. It is a fun one to play.
.
Who Put the Turtle in Myrtle's Girdle - Sid King - 1954.pdf
By Blackie Crawford and B. Herbert
The title of this song was mentioned in a comment to some article in the NY Times in March 2020.
Seeing this crazy title, I had to hear the song. It's kinda silly, d'uh!
.
Yes Sir, That's My Baby - 1925.pdf
Music: Walter Donaldson / Lyrics: Gus Khan
Yes Sir, That's My Baby (in C for easier singing) - 1925.pdf
Music: Walter Donaldson / Lyrics: Gus Khan
---
. . . . . . . . . A FEW SONGS FROM LATER IN THE LAST CENTURY - (1960's - 2000) . . . . . . . . .
Babooshka - 1980.pdf
By Kate Bush
This is a tough one to play, but once you get it, it's a great song to really belt out the vocals.
(Originally a half step higher.
If you want to play in the song's original key, slap a capo on the first fret.)
.
Broadway Hotel - Al Stewart - 1976.pdf
Don't Stand So Close To Me (Corona Version) - The Police.pdf

I wrote these altered lyrics, learned the song, and recorded it in less than 30 minutes.
Mistakes abound. Pardon my sloppiness. After all, this was just a goof.
.
Downtown - Petula Clark - 1966.pdf
.
The End of Time - Cocorosie - 2013.pdf

Check out CocoRosie's original version from their 2013 album "Tales of a Grass Widow"
which has a cool riff and is much more interesting.
I've always felt that you can tell a "good song" cuz it will hold up
when stripped to its basics and played on just a guitar (or uke).
This is one of those.
.
Everything's Alright - Jesus Christ Superstar - 1970.pdf
Georgy Girl - The Seekers - 1966.pdf
Girl - The Beatles - 1965.pdf
Originally in Em (transposed for easier uke playing)
Here There and Everywhere - The Beatles - 1966.pdf
Hey Hey My My - Neil Young - 1979.pdf
I'm Into Something Good - Herman's Hermits - 1964 (Carole King / Gerry Goffin).pdf
Joy To The World - Three Dog Night - 1971.pdf
Only Love Can Break Your Heart - Neil Young - 1970.pdf
Oops...I Did It Again - Britney Spears - 1999 (thanks to Richard Thompson).pdf

.
Swordfishtrombones - Tom Waits - 1983.pdf
Who Needs The Peace Corps - Frank Zappa - 1968.pdf
.
. . . . . . . . . A COUPLE OF OLD TV THEME SONGS . . . . . . . . .
Addams Family Theme Song - TV Show - 1964.pdf
composed by Vic Mizzy

.
Andy Griffith Show (The Fishin' Hole) - TV Show - 1960.pdf
composed by Vic Mizzy

.
Green Acres Theme Song - TV Show - 1967.pdf
composed by Earl Hagen and Herbert Spencer

.
Mr. Ed Theme Song - TV Show - 1966.pdf
TV Theme Song Medley - TV Shows - 1960's.pdf
Beverly Hillbillies - Petticoat Junction - Green Acres - Addams Family - The Munsters
Open Up Your Heart and Let The Sunshine In - Pebbles Flintstone & Bam Bam Rubble - 1966.pdf
composed by Stuart Hamblen
The recording by "The Cowboy Church Sunday School" reached #8 on the Billboard charts in 1954.
That recording is a child's voice (double tracked, I think) with organ accompaniment.
This is one of those "ear worm" songs. Hear it once and you'll be singing it all day.
CLICK HERE to see Pebbles and Bam Bam sing it
.
. . .and another one from The Flintstones
Yabba Dabba Do - The Flintstones - 1965.pdf
composed by Hoyt Curtin, Hoagy Carmichael, Joseph Hanna, William Barbara

Here's my solo uke version. There's lotsa quick chord changes.
.
---
About six months ago I realized that I had first heard many of these 100-year-old songs while watching old Fleischer (Max and Dave) and Warner Brothers Cartoons,
You know; Popeye, Betty Boop (Fleischer) and Bugs Bunny, Daffy Duck, Sniffles the Mouse, Buddy, and Bosko cartoons (Warner Bros.).
Many cartoons were based on songs or had songs featured prominently. The Fleischers' toons were very music oriented. All the main characters (Popeye, Olive, and Bluto) sang frequently. Brother Lou Fleischer was head of the music department at their studio. They even produced a series of "sing-a-long with the bouncing ball" cartoons where audience members sang along. Lotsa music in the Fleischer cartoons.
In the early days of the Warner Brothers cartoon factory, the producers Hugh Harmon and Rudolph Ising (Harmon-Ising - get it? Those were their real names) were contractually obligated to include one chorus of a Warner-owned song in each cartoon.
I don't know if Leon Schleschinger (who took over as PRODUCER after Harmon and Ising left for MGM - see Cryin' for the Carolines above) was similarly obligated, but Carl Stalling (musical director under Leon S.) sure used a whole bunch of these old tunes, and some contemporary ones.